Our Special 3 -Layer French Toast Sandwich filled with Smoked Ham, Apple-Wood Smoked Bacon & Melted Havarti Cheese, Topped with Powdered Sugar. Served with Strawberry Jam on the side. $15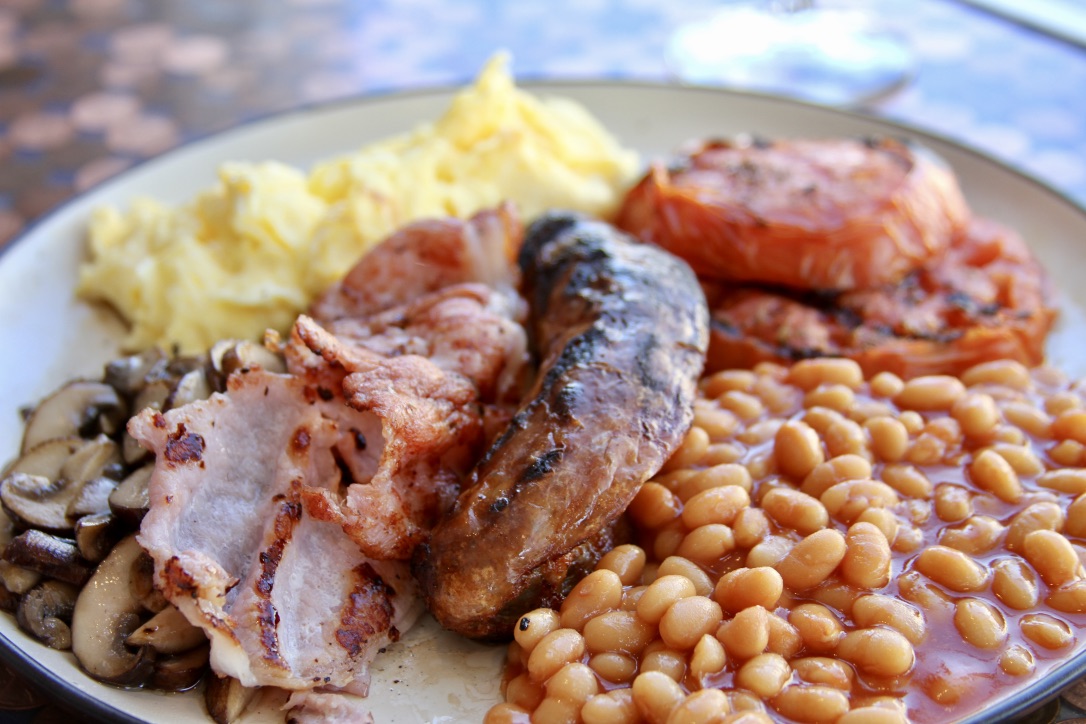 **
Full English Breakfast

**

Imported English Bacon, British Sausage, 2 Eggs any style, Grilled Tomatoes, Sautéed Mushrooms, Imported Baked Beans, your choice of Toast. $21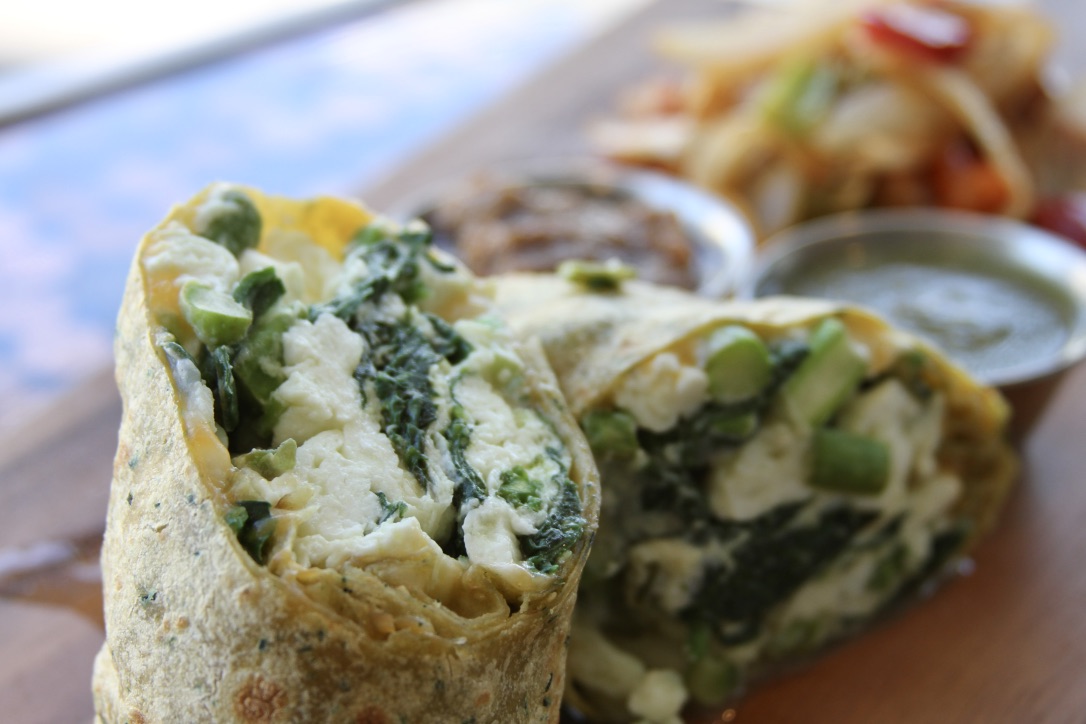 Love & Light
Vegan Hash (V)~ Roasted Sweet Yam, Red Onion, Mushrooms, Bell Peppers, Black Beans, Grilled Kale, Red Quinoa, Crispy Shallots, Fresh Avocado. $16 Add 1 Egg +$2.50, Avocado +$3, Bacon +$3, Smoked Salmon +$7 .

Avocado Toast (V)~ Fresh Avocado, Rustic MultiGrain Toast, Watermelon Radish, Beet Reduction. Served with Side Salad with Lemon Vinaigrette. $14 Add 1 Egg +$2.50, Bacon +$3, Smoked Salmon +$7

Smoked Salmon Toast ~ Multigrain Toast, Smoked Salmon, Arugula, Poached Egg, Drizzled with Olive Oil, Everything Bagel Seasoning. $16

Huevos Locos ~ Breakfast Stew with Bell Peppers, Celery, Garlic, Onions, Basil, Fresh Oregano, Roasted Tomatoes, Cilantro, Cotija Cheese, Avocado and 2 Eggs. Served with Toast. $16

Steel Cut Oatmeal (V)~ Served with Brown Sugar and Sun-Dried Cranberries on the side. $7 Add Banana +$1, Blueberries +$1, Pecans +$1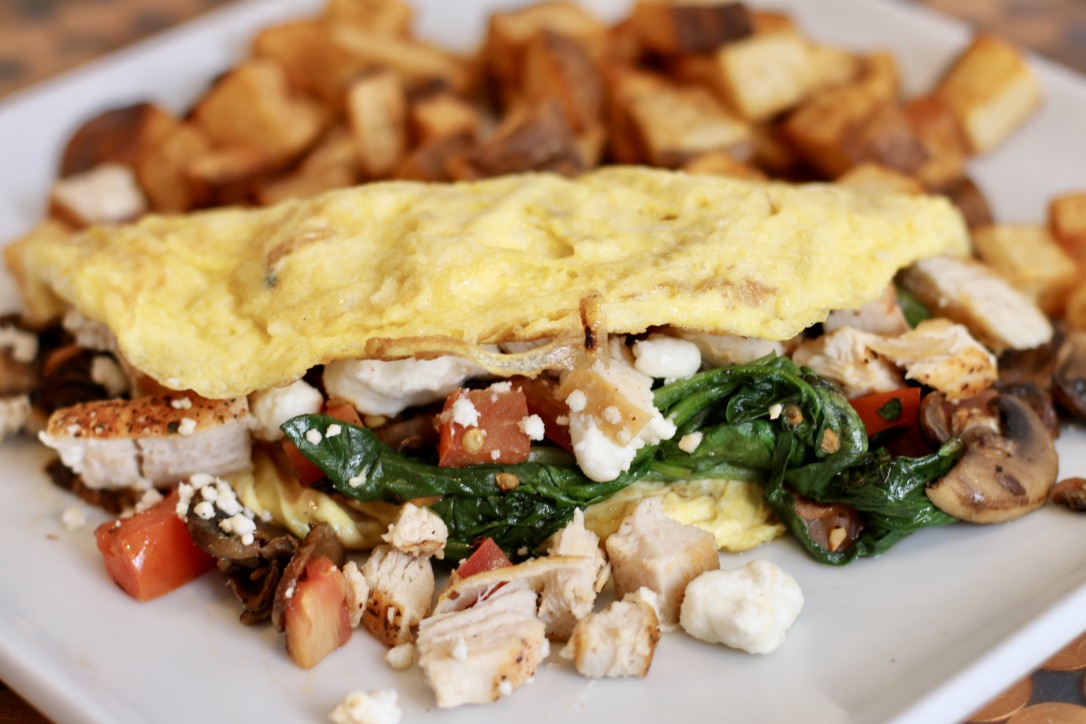 Brunch Specialties
Served with your choice of Breakfast Potatoes or Tater Tots. Sub Fresh fruit for an additional $3.50

Point Break Breakfast Sandwich ~ Toasted Country Bread with Garlic Aioli, Fried Egg, Arugula, Tomatoes, Bacon, and Havarti Cheese. $16

Steak & Eggs ~ Flat Iron Steak, 2 Eggs any Style, Breakfast Potatoes or Tots, and Choice of Toast. $18

Good Vibes Burrito ~ Scrambled Eggs, Bell Peppers, Tater Tot Crumbles, Pico de Gallo, Mozzarella Cheese and Spicy Aioli in a warm flour tortilla. Choice of Bacon, Chicken Sausage, Pork Sausage or Avo. $15

Go-Green Burrito ~ Egg Whites, Asparagus, Tuscan Kale, Green Onion and Mozzarella Cheese in a Spinach Tortilla. $16

Bacon Breakfast Tacos ~ Scrambled Eggs, Smokey Bacon, Pico de Gallo, Cheddar Cheese, Corn Tortillas, Avocado, Topped with Crumbled Tater Tots. $15

Eggs Your Way ~ 2 Eggs any style with Potatoes or Tater Tots and your choice of Bacon, Sausage or Avo. Choice of Toast. $14 Sub Toast for 1 Pancake +$2.50

California Girl Omelette (GF) ~ 3 Egg omelette with Bacon, Tomato, Avocado and Cheddar Cheese. $15

La Playa Scramble (GF) ~ 3 Eggs scrambled with Asparagus, Sun-Dried Tomatoes, Spinach, Onions, Goat Cheese and Avocado. $15

Shaka Omelette (GF) ~ 3 Egg omelette with Spinach, Mushrooms, Green Onions and Goat Cheese. $14 Add Avocado + $3 Add Grilled Chicken +$3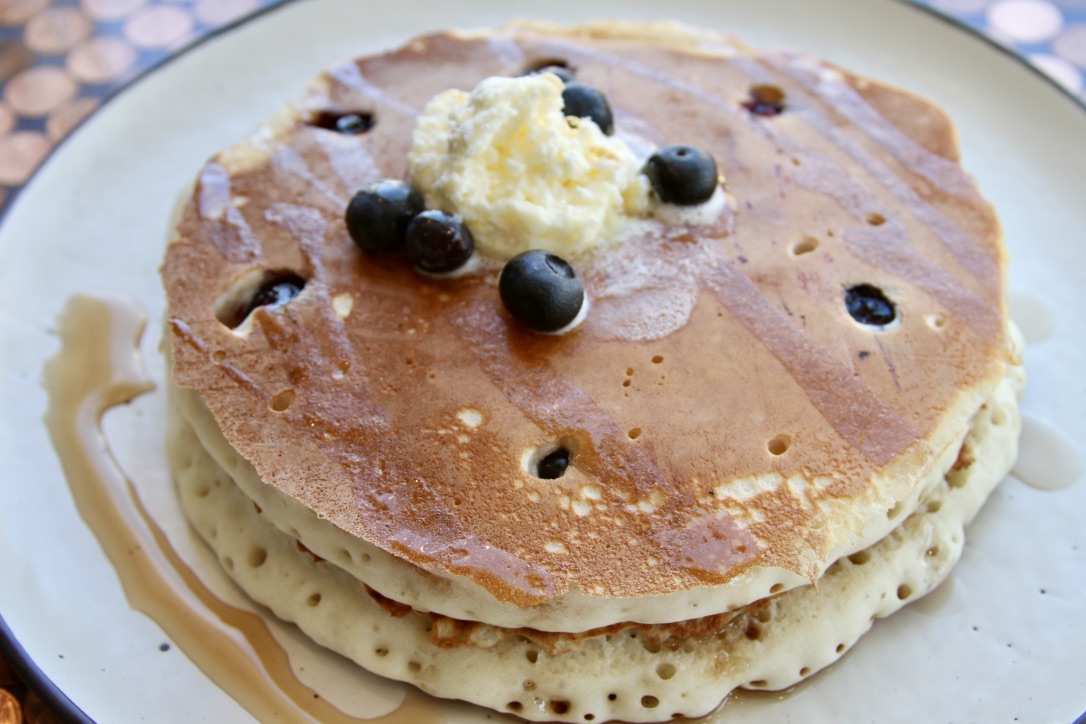 Pancakes & French Toast
Sugar-Free Syrup Available Or Upgrade to 100% Pure Canadian Maple Syrup +$2. Add Chocolate Chips, Strawberries , Blueberries or Pecans +$2.

Buttermilk Pancakes ~ A stack of 2 large, fluffy Pancakes Topped with Powdered Sugar. $12

Gluten Free Pancakes (GF) A stack of 2 large Pancakes Topped with Powdered Sugar. $14

O'reo S'mores Pancakes ~ 3 Buttermilk Pancakes Topped with Crumbled Oreos, Marshmallow Creme, Mini Marshmallows, Powdered Sugar, Chocolate Syrup. $15

Tiramisu French Toast ~ Thick-sliced Egg Bread dipped in our Special French Toast Batter and Espresso, Topped with Marscapone Espresso Whipped Cream and Crumbled Chocolate Covered Espresso Beans. $15

2+2+2 ~ 2 Eggs Any Style, 2 Pancakes, 2 Bacon. No Substitutions. $15 +$2 Gluten Free Pancakes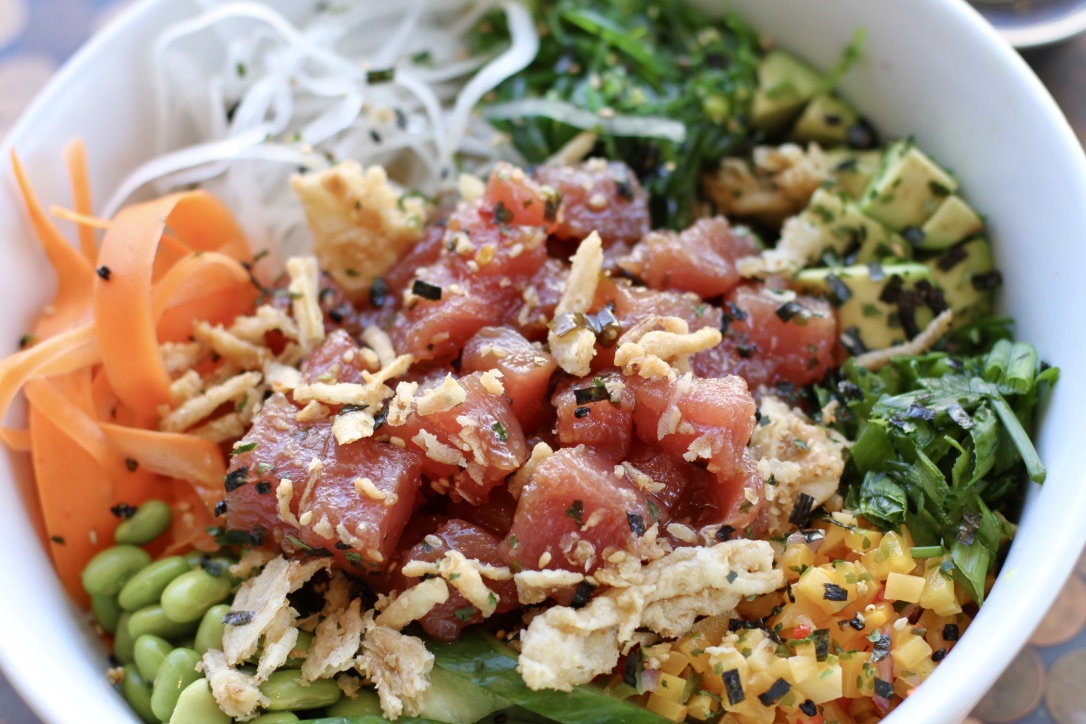 Bowls & Salads
Mexhattan Steak Salad (GF) ~ Flat Iron Steak, Romaine Lettuce, Roasted Corn, Cherry Tomato, Red and Green Onion, Avocado, Toasted Pepitas, Cotija Cheese tossed in a Cilantro Cumin Lime Vinaigrette, Topped with Tortilla Strips. $22

Brown Rice Bowl (GF, V) ~ Brown Rice, Manchego Cheese, Arugula, Sriracha Aioli, Cherry Tomato, Avocado. $16 Add Grilled Chicken Breast+$6, Grilled Salmon +$8, Smoked Salmon +$7

Ahi Poke Bowl ~ Arugula, Steamed Coconut Rice, Seaweed Salad, Avocado, Ginger, Cucumber, Jicama, Carrot, Edamame, Mango Salsa, Crispy Shallots, Sesame Ginger Marinated Ahi. $17.50

Roasted Beet Salad (GF, V) ~ Spinach, Roasted Beets, Toasted Pepitas, Goat Cheese, Avocado, Balsamic Vinaigrette. $17 Add Grilled Chicken Breast+$6, Grilled Salmon +$8, Smoked Salmon +$7

Watermelon Salad (GF, V) ~ Arugula , Spinach, Fresh Watermelon, Pepitas, Edamame, Quinoa, Carrots, Avocado, Balsamic Vinaigrette. $16 Add Grilled Chicken Breast+$6, Grilled Salmon +$8, Smoked Salmon +$7

Grilled Mahi Mahi Salad (GF) ~ Arugula, Shredded Cabbage, Cherry Tomatoes, Carrots, Mango, Cucumber, Jicama, Avocado, Grilled Mahi Mahi, Red Wine Oregano Vinaigrette. $22

Chicken Curry Salad (GF) ~ Chicken Breast in a light Curry Dressing, Romaine, Sliced Grapes, Pecans, Dried Cranberries, Celery, Sliced Almonds. $18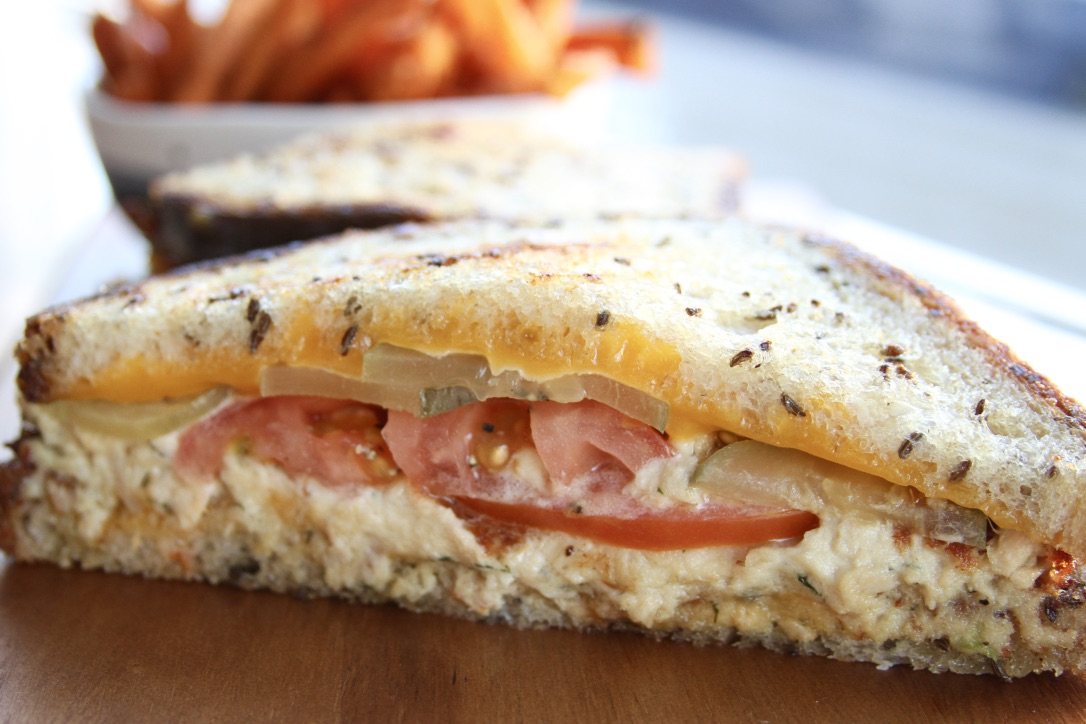 Between The Slices
Made with freshly baked Bread Lounge bread. Served with Choice of Salad, Fries or Sweet Potato Fries. Beyond Burger Patty may be subbed for +$1

Honey Sriracha Fried Chicken Sandwich ~ Breaded Chicken Breast, Coleslaw, Dill Pickles, Spicy Honey Glaze & Spicy Aioli, Brioche Bun. $17 Add Cheese +$2, Bacon +$3

Classic Grass-Fed CheeseBurger ~ 1/2 pound Beef Patty seasoned with Shallots and Spices; Cheddar Cheese, Romaine, Onion, Tomato, Pickles, Garlic Aioli on a Brioche Bun. $18 Add Ons: Bacon +$3, Jalapenos +$2, Fried Egg +$2.50, Avocado +$3

The Wild Burger ~ 1/2 pound Beef Patty seasoned with Shallots and Spices; Bacon, Cheddar Cheese, Avocado, Romaine, Onion, Tomato, Pickles, Garlic Aioli on a Brioche Bun. $20

Chicken BLT ~ Marinated Chicken Breast, Romaine Lettuce, Bacon, Tomatoes, Melted Provolone Cheese, Spicy Aioli, Grilled Country Bread. $16 Add Avocado +$3, Jalapenos +$2

Classic Tuna Melt ~ White Albacore Tuna Salad with Red Onion, Celery, Pickles and Lime Juice, Topped with Aged Cheddar Cheese & Pickled Onions on Grilled Country Bread. $15.50

Classic Grilled Cheese (V) ~ Cheddar & Havarti Cheese on Buttery Toasted Bread $13 Add Bacon +$3, Add Tomato +$2, Add Grilled Onions +$2, Add Avocado +$3

Chicken Curry Salad Wrap ~ Chicken Breast in a light Curry Dressing, Romaine, Sliced Grapes, Pecans, Dried Cranberries, Celery, Sliced Almonds, wrapped in a Spinach Tortilla. $15

Mahi Mahi Tacos (GF) ~ Grilled Mahi, Corn Tortillas, Cabbage, Mango Salsa, Avocado, Sriracha Sauce. $16

Quesadilla (V) ~ Grilled Flour Tortilla stuffed with Melted Cheddar and Mozzarella Cheeses. Served ala Carte. $11
Add Grilled Veggies (Peppers & Onions, Corn and Pico de Gallo) +$3,
Add Grilled Chicken +$4, Add Grilled Steak +$5, Add Avocado +$3 
(V) = Vegetarian (May contain Dairy or Cheese)   (GF) = Gluten Free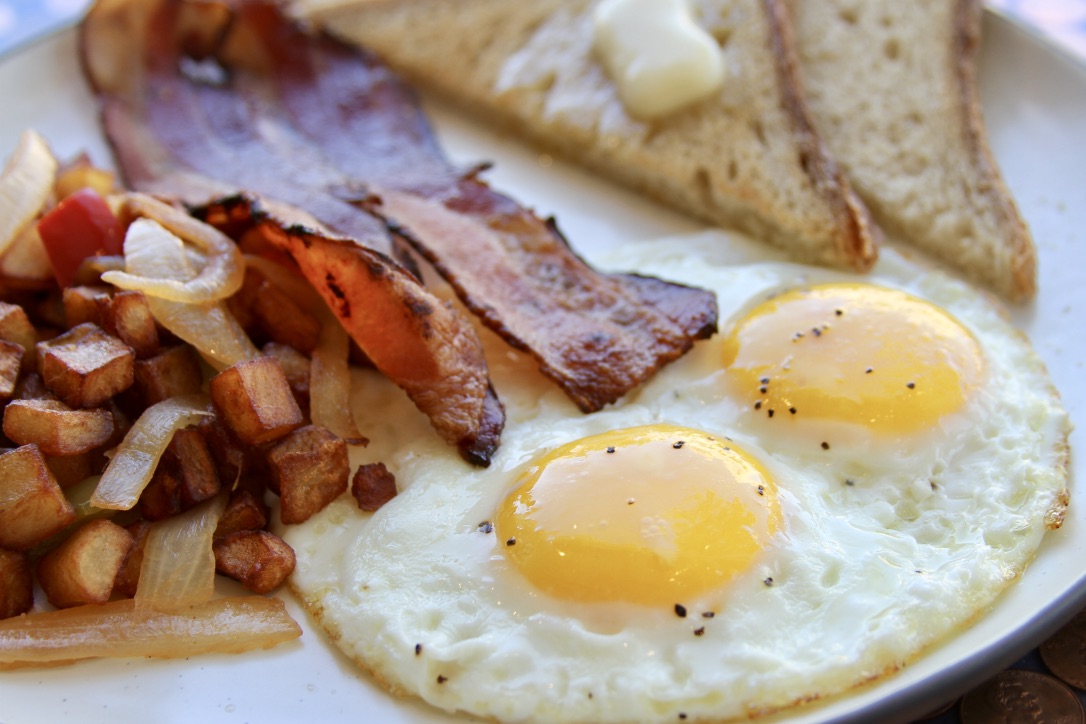 2 Eggs $4
Bacon $5
Pork Sausage $5 
Chicken Apple Sausage  $5
Side Grilled Chicken $6
Side Grilled Salmon $7
Side Grilled Steak $9
Side Smoked Salmon $7
1 Buttermilk Pancake $5
1 Gluten-Free Pancake $6
Side Tater Tots $6
Crinkle Cut Fries $6 
Sweet Potato Fries $6
Truffle Fries $8
Side Brown Rice $6
Breakfast Potatoes $4
Side of Toast $3
Sautéed Spinach $7
Grilled Asparagus $7
Avocado $3.50
Side Salad $4
Fruit $7
Comes with Kids Beverage: Choice of OJ, Milk 0r Chocolate Milk

1+1+1 ~ 1Egg +1Bacon +1 Pancake.
Kids Pancakes ~ Stack of 2 Kid-Sized Buttermilk Pancakes Topped with Powdered Sugar.
Kids French Toast ~ Homemade Brioche French Toast served with a side of Nutella.
Kids Quesadilla ~ Grilled Flour Tortilla filled with Melted Cheddar & Mozzarella Cheeses. Choice of Fruit or Fries.
Kids Grilled Ham & Cheese Sandwich ~ Grilled Country Bread with Cheddar Cheese and Smoked Ham. Choice of Fruit or Fries. 
Wild Dogs
Grilled Chicken $5
Hamburger Patty $5
Puppuccino $1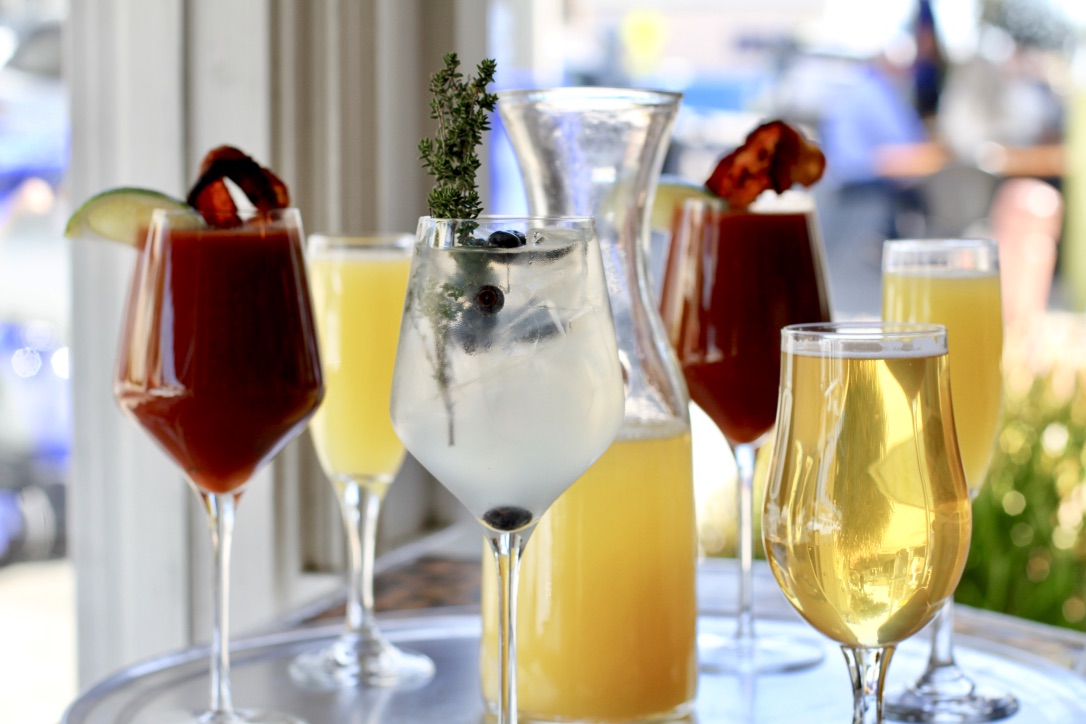 La Colombe Fresh brewed Coffee $3.50 
La Colombe Espresso ~Double shot $3.50 
Americano $3.75
Cappuccino $4.50 
Latte $4.75 
Cortado $4.25 
Cafe Mocha $5 
Cold-Brewed Coffee ~ Served over Ice $4.50 
Hot Chocolate $4.75 
Hot Tea, Assorted $3.50 
Chai Latte $4.50
Iced Mint Green Tea $3.50
Fresh-Brewed Iced Tea $3.50
Coca-Cola, Diet Coke, Sprite $3.50
Homemade Lemonade $4
Arnold Palmer $4
Martinelli's Apple Juice $4
Orange Juice $4.50
Liquid Death Still Water $3.75
Liquid Death Sparkling Water  $3.75
Sparkling Bottled Water, 750ml  $6.50
Still Bottled Water, 750ml  $6.50
Iced Mint Green Tea $3.50 
Non-Dairy Milk Alternatives:
Oat, Almond, Soy +$0.50
Add a Double-Shot of Espresso +$1
Flavored Syrups +$0.50: Vanilla, Sugar-Free Vanilla, Hazelnut, Caramel, Peppermint, Chocolate, Lavender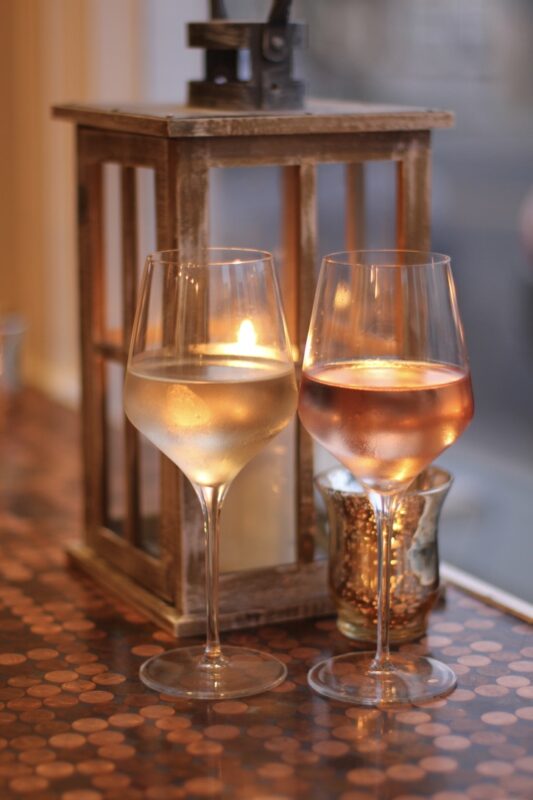 Wild Beer Lager ~ $8 White
Cafe Wild Great White ~ $9 
*Ask your Server about our Weekly Special Drafts ~ $9 
Bottles & Cans
Modelo ~ $8
Guinness Can ~ $9
Cocktails
Mimosa $9
Manmosa $12
Mimosa Carafe $36
Mimosa Pitcher $50
Bloody Mary $12
Bloody Mary Pitcher $50
Michelada $12
Sangria Glass $10/Pitcher $42
White
House Pinot Grigio $9 /  $34
House Chardonnay $9 /$34
House Sauvignon Blanc $9 / $38
Rose & Sparkling
House Rose $10 / $40 
House Sparkling Rose $11 / $55
Red
House Cabernet Sauvignon $10 / $40
House Pinot Noir $9 / $35